Details
FormEvo is a modern, progressive, cloud-based legal forms solution for use by modern, progressive practices - from sole practitioners through to top 100 law firms.
FormEvo is more than just legacy forms. FormEvo is that revolutionary forms package that traditional law stationery was in the 90s. In our opinion, these old desktop based applications are still in the 90s. The internet has come of age and 'Evolved' enough to allow for a whole new approach to legal forms mainly through the advent of the e-submission concept and the Governments Digital By Default.
It's easily sharing forms with your clients and staff. It's not having to update your computers every time a new update comes out.
Legal services are evolving faster than ever these days. You need access to the tools of your profession 24/7 - including legal forms. FormEvo ticks that box.
Forms on Demand - anywhere, anytime, any device
FormEvo provides your firm with the capability to use only the forms you want, when you want them, paying only for the forms you have actually completed. Gone are the days of having to rent or purchase a fixed group of forms (or even paying for new ones!).
FormEvo provides your firm with access to a full range of legal forms - what's more when we introduce new forms they are available immediately, no haggling over costs with salespeople. The form is there to use when you want it. With our Forms on Demand service YOU ONLY PAY FOR WHAT YOU COMPLETE.
If you want to create your own forms and have them available in FormEvo for your organisation's use only, that's no problem. FormEvo is YOUR service and we can do that for you. Perhaps you have adapted some basic forms or created your own that you want added to the same place as your standard forms, that's fine, FormEvo does just that. Of course only you and your firm can have sight of these customised forms.
Windows? Mac? Tablet? If you have access to the internet, you have access to FormEvo.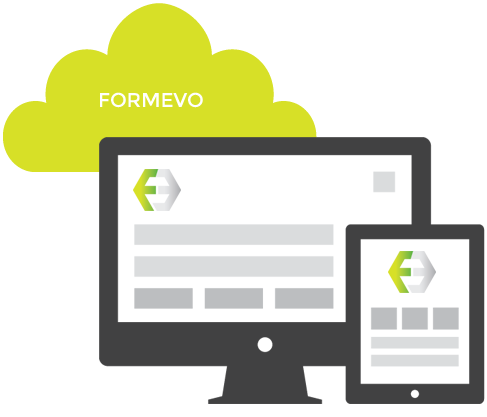 Form Cost as a Disbursement
FormEvo fees can be charged to your client account as a disbursement making it totally unique and essentially FREE to your firm. This provides you with complete costs transparency, allowing true and fair charging for your clients. Our sister product SDLT.co.uk works on the exact same disbursement billing method and it has proven very popular with our customers over the last 11 years. It's the same as Search Fees, they are incurred due to the client matter and charged to that matter. A disbursement.
ALTERNATIVELY...
Subscription-based Annual Fee
If you don't want free legal forms and would prefer a subscription service similar to your existing supplier then we make this amazing offer. Show us last years invoice from your existing supplier and we will beat their fee and you will get better value for money for sure. (excluding royalty payments to the likes of The Law Society for their forms).
FormEvo - future-proofing your legal form requirements
FormEvo is truly a game-changer. Whilst it has the obvious benefits an online form-filling application provides, FormEvo uses the latest technology to provide greater benefits over legacy desktop solutions that are written using old and out-dated technology. The legal services market is constantly changing and law firms need the right tools to keep ahead. FormEvo has been designed to move with the times and evolve with the changing nature of legal services.
FormEvo is the only legal forms solution that provides a 'Print and Post' service and an e-submission service from within a single application. As more government departments move to e-submission data, FormEvo forms will offer the means to deliver the data via the click of your 'browser' button. It really is that simple - either click PRINT or E-SUBMIT, you don't need any training to handle that!
By using FormEvo your firm is not only benefiting from increased flexibility, efficiency, reduced risk and costs, but also securing the future of your business by investing in a forward-thinking, innovative company embracing the digital revolution, providing the right tools for the digitally-equipped lawyer. .
Fully maintained library of legal forms
The forms library within FormEvo is fully maintained by our experts headed up by the ex-Oyez Support Manager Gary where he was for 20 years. Dawn is our Q.A. manager for all forms content. FormEvo was in fact designed by the late, well respected industry forms expert Paul Crouch, whom left Laserforms after 17 years, and spent the next 8 years, on a clean slate, starting from scratch and building an up to date 'Cloud Forms' rival to Laserforms; which is FormEvo its very self. You don't have to worry about adding new forms or handling form updates - we do that. Our library covers all the main areas of law, including company, conveyancing, divorce, employment, family, legal aid, litigation, probate, insolvency, intellectual property and tax. See the forms Catalogue for a real time up to date listing.
New forms are added as and when legislation requires and by firms requesting additional forms. We also offer a bespoke forms service for forms that meet a firms' own specific requirements.
Key Benefits
Because FormEvo has the benefit of several years' experience in form software design many common features are present as well as new features helping to reduce errors and improve efficiency. Don't take our word for it, read the testimonials, sign up and try it for yourself.
No up-front costs
No annual contracts
Pay only for what you use
Cost can be billed as disbursement
Free access to full forms library including all new forms
Guidance notes and continuation sheets are free
Access FormEvo anywhere anytime
Accessible via Windows, Mac, tablets and mobiles
Single central forms library of paper and e-submittable forms
Choice of 'Print and Post' or e-submit from the same saved document
Intuitive form filling features; get up and running in minutes
FormShare lets you share forms securely with third parties
Helps legal compliance with full audit trail
New product features and updates carried out automatically
About SDLT.co.uk
SDLT.co.uk is the leading independent e-submission solution provider of electronic Stamp Duty Land Tax return forms.
Founded in 2003 to address a need brought about by the Stamp Duty Land Tax Act 2003, SDLT.co.uk was the first software supplier to launch a Stamp Duty Land Tax return solution via the HMRC online gateway and won "Best Online Product of the Year" at the Legal Technology Awards in 2007.
SDLT.co.uk is used by licensed conveyancers and solicitors practices forming an essential part of the property conveyancing process.
SDLT.co.uk is the preferred choice by many leading practice and case management solution providers who integrate SDLT.co.uk with their conveyancing case flow and matter systems.